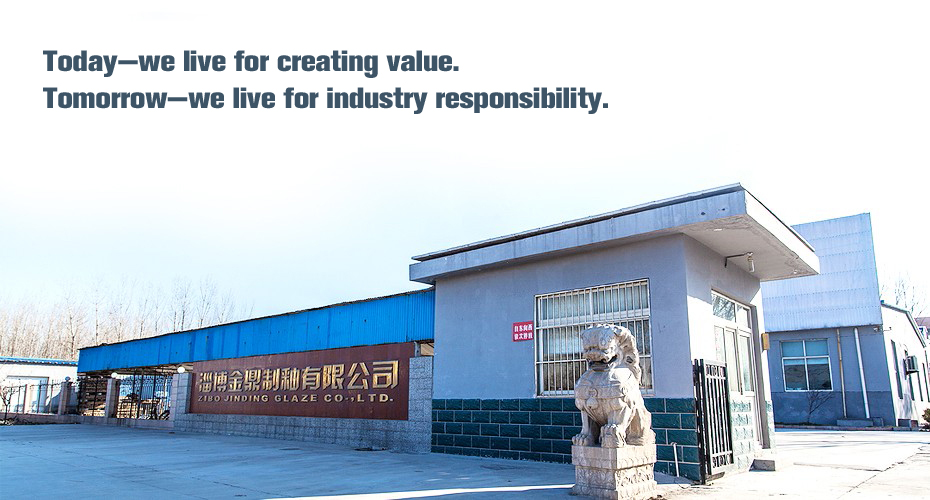 Zibo JINDING founded in 2009 is a professional supplier of Ceramic frit with R&D, production, marketing and technical service. JINDING will do its best to provide high-quality products and full range of technical service
R&D is the fundament. JINDING owns excellent R&D engineers who are always ready to make the technical innovation according to the marketing demands and ensure the product's quality.
Service is the foundation. With great technical service team, JINDING can provide all aspects of technical service of test, production line follow up, engobe adjustment, green body adjustment, kiln adjustment etc.
Quality is the life of company. With great management system of quality and technology and strict QC system, JINDING can make sure of the quality and security for incoming raw material, weighing, process and delivery.
Team is the motivation. JINDING owns well-educated team with positive working attitude and friendly team spirit. It makes the company develop quickly and steadily.
The main products for JINDING are zirconium frit, frit for inkjet, opaque frit, transparent frit, titanium frit, special effect frit, composed glaze of special effect, superfine screen printing glaze and other related material.
With business philosophy of honest, profession, focus and quality, JINDING persists to win by high quality, provide service with sincere and get double-wins. JINDING gathers experience gradually and develops continually to grow to be a major brand in the business of Ceramic frit.
Today—we live for creating value.
Tomorrow—we live for industry responsibility.